Aquor Home Water Hydrant System Installs
Andy's Pipe Dream understands the importance of convenience, reliability, and durability when it comes to your plumbing this is especially true when it comes to your outdoor water hydrants and faucets. With over 31 years of plumbing expertise, we take pride in the high standards that we set for every project and the plumbing knowledge we provide our homeowners.  Something that sets APD apart from other plumbing companies, is our passion for innovation and utilizing latest technology in our residential and commercial plumbing projects. One product that has residential and commercial applications that we are excited about is the Aquor Water Hydrant System, this ingenious low-profile piece of plumbing hardware will make watering your lawn, home garden or hosing down the company fleet a simple task.
Why you Should Consider Installing a Aquor Water Hydrant System
Are you tired of wrestling with the garden hose, leaking outdoor faucets, or worrying about weatherizing your home or businesses outdoor hydrants? By installing an in-wall Aquor outdoor water hydrant system you are protecting your plumbing year-round, while making quick work of any water related task or chore with a simple twist of the wrist. The Aquor outdoor water hydrant eliminates the need for weather proofing and puts an end to the struggle of removing and connecting that old garden hose to your outdoor wall faucets with its patented push and twist technology.  The Aquor Water Hydrant System is easy to install and integrate with your existing plumbing. Its low-profile stainless steel weatherproof design is rated to -30o F so, no need for foam covers and sleek outer covering blend seamlessly into most residential or commercial exteriors.
The Aquor system is 100 percent lead free and made with marine grade stainless steel and eco-friendly polymers. The unique internal valve design uses water pressure to create a seal resulting in a more reliable and ultra-low maintenance outdoor wall water outlet. Backed by a 5-year warranty and built with high-grade heavy-duty materials, Aquor ensures the professional grade quality of its hydrant systems. This revolutionary hydrant system was designed and tested for use over hundreds of thousands of cycles, typically lasting 20 plus years without the need for maintenance. Not only is the Aquor hydrant system built to last, but its discrete and difficult to tamper with outlet design can help prevent vandalism to your commercial space or damage to your home.
Connect Your Hoses in Seconds
The Aquor Water Hydrant System is ASSE & CSA tested and approved, extremely easy to use, and its added functionality will allow you to make quick work of any chore or task. Operating a Aquor water hydrant system is simple; you start by lifting the weatherproof thermoplastic or stainless-steel debris cover and inserting your preferred Aquor hose connector into the main outlet, then lightly twist to lock in place and engage water flow. With the easy-to-use self-guiding connector grooves, you can easily connect your hoses with one hand in seconds. Once you install a Aquor water hydrant you will had wished you had made the switch sooner.
What Aquor Water Hydrant System Is Right for Your Home or Business
We understand that every project is different and so does Aquor, that's why they offer two different versions of the unique and easy to use low-profile outdoor wall water hydrant system, so you can choose the right model to fit your needs.
The Aquor Outdoor Water Hydrant V1+
Like the Aquor V1 the V1+ offers the same great award-winning durability, reliability, and functionality as its predecessor. The V1+ is stainless steel and freeze-proof, this wall hydrant is built to stand up to the most extreme temperature to ensure that your home is protected during colder weather.
Each Aquor Water Hydrant V1+ install includes the following:
Stainless Steel Hydrant (Six Stem Length Options)

Close-Couple
4 Inches
6 Inches
8 Inches
10 Inches
12 Inches
Polymer Hydrant Cover (Three Color Options)

Slate Gray
Brushed Stainless Steel
Matte Black Stainless Steel
We recommend this version of the Aquor wall hydrants when you are planning on replacing an already existing spigot, but it can also be used in new construction projects.
The Aquor Outdoor Water Hydrant V2+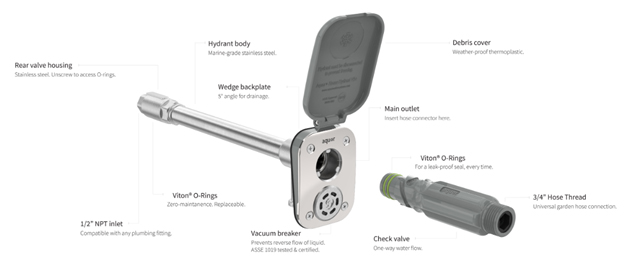 The Aquor V2+ water hydrant offers everything that makes the V1+ great but with the added level of protection with the addition of the vacuum breaker to ensure your home or business has zero winter related issues.
Each Aquor Water Hydrant V2+ install includes the following:
Polished Stainless Steel Hydrant (Six Stem Length Options)

Close-Couple
4 Inches
6 Inches
8 Inches
10 Inches
12 Inches
Slate Gray Polymer Hydrant Cove
Hose Connector
We recommend this hydrant for new construction projects but can also be retrofitted to your existing outdoor wall faucets.
Andy's Pipe Dream Makes Installing a New Aquor Hydrant System Easy
If you're ready to make the switch from that old traditional outdoor water faucet to an Aquor outdoor water hydrant system, then let the local Aquor experts install your new residential or commercial water hydrants today. Andy's Pipe Dream has the knowledge and expertise to get the job done right the first time. APD Technicians will walk you through every step the installation process and answer any questions you might have. Just like the Aquor system itself, the installation process is quick and normally done within a few hours. After the installation is complete the technician on location will complete a thorough inspection to ensure the new hydrant is working properly. Lastly, our technician will guide you through your first time connecting to your new Aquor outdoor water hydrants and provide you with any care instructions.
Kansas City Metro
19959 W. 162nd Street.
Olathe, KS 66062
Phone: 913-210-5818
E-mail: dispatch@andyspipedream.com
Hours of Operation
Monday – Friday: 8 am – 6 pm
Saturday: Closed (Emergency Service Available)
Sunday: Closed (Emergency Service Available)
Emergency Service Available 24 Hours a Day / 7 Days a Week