Outdoor rooms, outdoor spaces, and outdoor living enchant your home.
A trip to your local book store and you'll find many magazines covers with beautiful pictures and articles on how to create a restful, entertaining outdoor space. One of the centerpieces of these spaces is the area where the cooking takes place.
Usually, the area has a large stainless steel BBQ grill, with a burner or two on the side. If your desire is to create your own version of the outdoor kitchen but is limited because do not have a gas line in order to cook outside, call us and we can install a gas line to your BBQ grill.
In no time at all, your backyard can also be your outdoor kitchen!
Outdoor Living Projects
A gas line to your BBQ grill has many benefits over propane. For one, it is cheaper. Depending on the market, adding a natural gas line could be as much as one-third the cost of using a propane grill.
Natural gas is also better for the environment because it burns cleaner than propane; it has less exhaust which means healthier food and surrounding air for family and guests.
Installing a natural gas line also ensures that you won't run out of fuel, you'll always be able to finish cooking your steaks or chicken kabobs.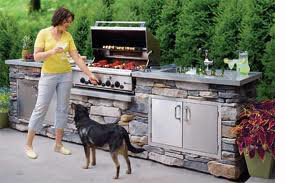 Installing a Gas Line to your BBQ
Most all gas-fired outdoor appliances; BBQ grills, smokers, patio heaters, or fire pits come in a natural gas version. If you do not have a gas appliance but would like to install a natural gas line, they are available in most stores or many stores can order one for you.
Many propane manufacturers also have conversion kits available for natural gas lines.
We can install a gas line for a BBQ grill to a convenient location outside your home or patio. Installing a gas line isn't something you should do yourself, unless you are a certified contractor.
Andy's Pipe Dream can install a safe natural gas line in as little as 2 hours.
So, whether you are in the market for a new gas grill, are looking to complete your outdoor space or just want to add make your next BBQ cookout easy and worry free, let Andy's Pipe Dream install a natural gas line for you.
Enjoy your next party or dinner cookout at home!
Kansas City Metro
19959 W. 162nd Street.
Olathe, KS 66062
Phone: 913-210-5818
E-mail: dispatch@andyspipedream.com
Hours of Operation
Monday – Friday: 8 am – 6 pm
Saturday: Closed (Emergency Service Available)
Sunday: Closed (Emergency Service Available)
Emergency Service Available 24 Hours a Day / 7 Days a Week