InSinkErator® SinkTop Switch: Air Switch for Garbage Disposal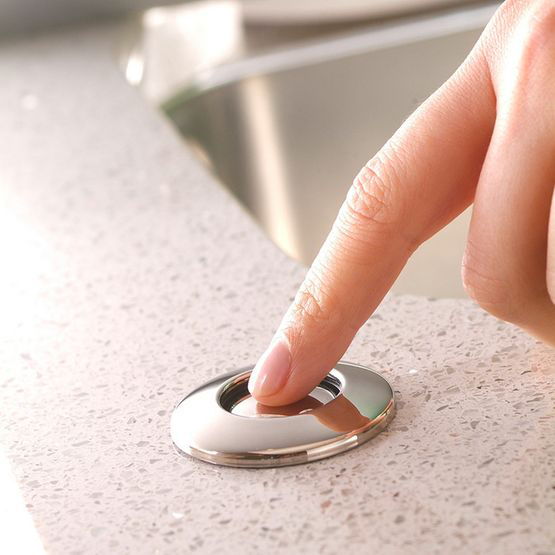 The kitchen's garbage disposal has become an essential part of after-meal cleanup. Without it, the tedious task of kitchen cleanup becomes even more difficult. However, if a homeowner must take extra steps to access their disposal's on and off switch, it loses its convenience. This is the case in many kitchen designs with the disposal switch located in an out-of-reach wall mount, or worse, located within a cabinet and hard to access. Awkward switch placement is a common issue in kitchens with sinks set in islands.
Good news, there is an innovative solution available…Emerson, the manufacturer of top brand InSinkErator garbage disposals, has developed an elegant solution to frustrating switch access issues.
It is called the InSinkErator SinkTop Air Switch!
What are the Benefits of an InSinkErator® SinkTop Air Switch?
Installing an InSinkErator SinkTop Switch not only vastly improves the convenience of kitchen cleanup, but it also improves overall safety and sanitation in the kitchen.
In order to operate, a garbage disposal needs to be installed and powered by the home's electrical system. As we all know electricity and water together can be hazardous. Generally, when someone is using a garbage disposal, it is not unusual for them to be either in the middle of food prep or cleanup. During this task, it is common for a person to reach for the garbage disposal switch with wet hands. Many kitchens are designed with their wall-mounted controls set extremely close to their electrical sockets. If a person isn't careful, they could be in for a potentially nasty shock.
For kitchens designed with awkward switch placement (in a cabinet or placed several feet away) kitchen cleanup workflow can be significantly reduced. This can make the task of eliminating unwanted food both inconvenient and far more labor-intensive than it needs to be.
The InSinkErator SinkTop Air Switch elegantly eliminates these hazards and inconveniences with its simple, yet revolutionary design.
The expert plumbing technicians at Andy's Pipe Dream can install the straightforward push-button SinkTop Air Switch on the counter directly next to your kitchen sink. The buttons themselves are installed flush with the counter and are sealed to prevent water and food from getting into the air switch itself. The InSinkErator SinkTop Air Switch does not have any electronic components. Homeowners do not have to worry about water damaging the switch or worry about getting shocked by using them with wet hands. When the button is pressed The InSinkErator SinkTop Air Switch sends a burst of air through a tube to the garbage disposal electrical on/off switch.  The pressure from the burst of air is enough to flip the switch. Pretty genius!
The InSinkErator SinkTop Air Switch – A Modern Solution
As a top service provider for the Kansas City area, our team at Andy's Pipe Dream Plumbing have seen countless plumbing product solutions over the years. We are all too familiar with how inferior quality garbage disposals can not only ruin the kitchen experience, but can also potentially harm plumbing and septic systems as well.
Andy's Pipe Dream Plumbing installs only quality plumbing products in our clients' homes and businesses.  We also stand behind the superior products we install.  We recommend all InSinkErator brand products, they provide rock solid product warranties and InSinkErator products are manufactured in the USA!
InSinkErator SinkTop Air Switches are available in 12 different finishes with multiple design styles to select from, making it easy to match your existing kitchen decor! Whether it's new kitchen construction, a remodel, or simply an installation, InSinkErator SinkTop Air Switches can help make life in the kitchen easier and more enjoyable!
Kansas City Metro
19959 W. 162nd Street.
Olathe, KS 66062
Phone: 913-210-5818
E-mail: dispatch@andyspipedream.com
Hours of Operation
Monday – Friday: 8 am – 6 pm
Saturday: Closed (Emergency Service Available)
Sunday: Closed (Emergency Service Available)
Emergency Service Available 24 Hours a Day / 7 Days a Week