We Install Only the BEST Kitchen Sink Garbage Disposals – The InSinkErator Brand
InSinkErator invented the garbage disposal in 1927 and Andy believes they have been the finest ever since. That's why Andy's Pipe Dream exclusively carries 3 different types of InSinkErator garbage disposals; The Badger 5, Pro 750 and Pro 880LT.
InSinkErator provides the best in-home service warranty with every garbage disposal they sell.
The InSinkErator Badger 5, Pro 750 and Pro 880LT come standard with:
• A Detailed set of instructions that include how to install, maintain and warranty information
• Wrenchet Tool to unjam the garbage disposer
• A built-in Circuit Breaker, which prevents the motor from overheating if the disposer does become jammed
• Drain assembly Included to connect to existing drain
• Stainless steel Flange to connect to the sink
• Basic Sound Seal Technology
Each disposal has pros and cons. If you have limited space, the Badger 5 is best but it lacks some extra features that the Pro 750 and 880LT carry such as anti-vibration and auto reverse technologies.
The Pro 750 and 880LT offer add-ons such as extra tubing for custom drain assembly and polished stainless steel flange with a stainless-steel stopper but they are larger and take up more space.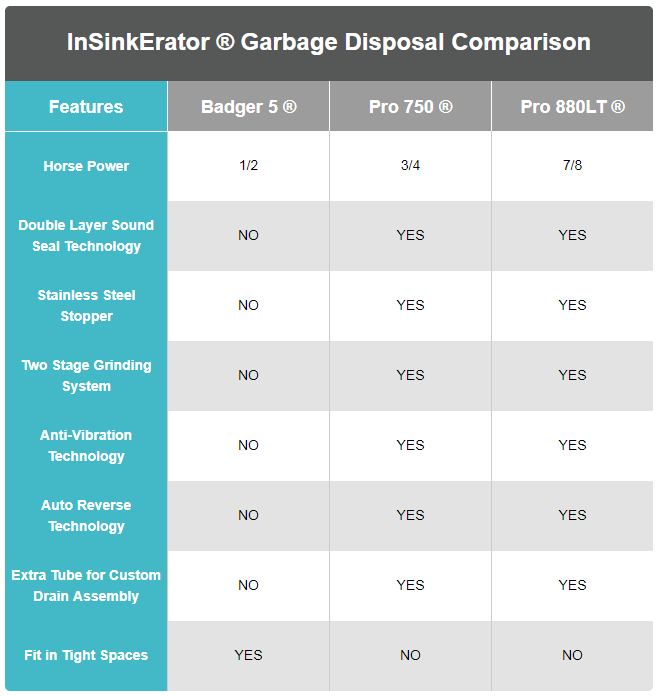 If your garbage disposal is making humming noises, or has stopped working, please watch this informative video for some tips to resetting the circuit breaker or using your wrenchet tool.
If the disposal still does not unclog, please call Andy's Pipe Dream.
If you would like for Andy's Pipe Dream to install an InSinkErator garbage disposal or come out and service an existing unit, please feel free to contact us:
Kansas City Metro
19959 W. 162nd Street.
Olathe, KS 66062
Phone: 913-210-5818
E-mail: dispatch@andyspipedream.com
Hours of Operation
Monday – Friday: 8 am – 6 pm
Saturday: Closed (Emergency Service Available)
Sunday: Closed (Emergency Service Available)
Emergency Service Available 24 Hours a Day / 7 Days a Week