Top Rated Garbage Disposals – The InSinkErator Evolution Septic Assist

Finding a quality garbage disposal is not an easy task. All too often, homeowners have taken this crucial piece of equipment for granted. One of the most common mistakes homeowners often make is purchasing inferior plumbing equipment. This is particularly true when it comes to garbage disposals.
Your garbage disposal is one of the most frequently used pieces of equipment. Garbage disposals make cleanup simpler by grinding up large food waste so it can easily pass down the kitchen sink's drain. Without an effective garbage disposal, a home or business' kitchen plumbing can become easily clogged.  If a home or business is tied to a septic system, it is even more important to make sure solid food waste is ground down completely or not put down the drain at all.  Septic systems can be very expensive to repair or replace.
All too frequently, homeowners take a gamble on substandard brands of garbage disposals.  They risk frustration and repair/replacement expense as cheaper brands have a much shorter lifespan and higher rate of failure.
With over twenty years of experience, the expert Kansas City plumbing technicians at Andy's Pipe Dream have had experience with installing and repairing many different makes and models of garbage disposals.
With all of our experience and knowledge we recommend InSinkErator brand garbage disposals.  InSinkErator consistently outshines and outperforms the competition by manufacturing products with superior quality, features and functionality. The InSinkErator brand of garbage disposals is built to withstand the rigors of constant use!
Most recently InSinkErator has again proved its superiority with the Evolution Septic Assist Garbage Disposal model. Constructed out of stainless-steel alloy components, the Evolution Septic Assist is an extremely durable garbage disposal inside and out. With its innovative multi-grind technology, the Evolution Septic Assist can pulverize food substances making it effortless for waste to easily travel through plumbing pipes.
The Evolution Septic Assist's operates at ¾ horsepower, creating grinding speeds of 1725 RPM. For context, that's over three times the speed of a helicopter's rotor. That makes the Evolution Septic Assist powerful enough to grind harder food items like chicken bones.  Denser food materials like beef bones should be avoided, however the InSinkErator Evolution Excel is rated to handle these denser food materials[i].
The Evolution Septic Assist is also whisper quiet. Its innovative leak guard not only prevents leakage, but it also provides advanced noise reduction. It grinds contents quietly, helping make after-dinner cleanup a more pleasant, peaceful task.
What Does "Septic Assist" Mean?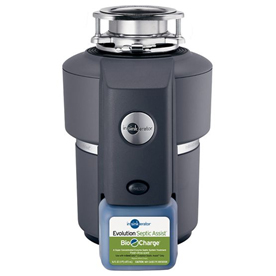 What truly sets InSinkErator's Evolution Septic Assist Garbage Disposal apart from the rest, is its revolutionary bio-charge injection of enzymes. Specifically designed to help eliminate clogged drains, pipes and increase the lifespan of septic systems.
The injection technology sprays up to 300 million natural microorganisms into the garbage disposal every time it is activated.  The enzyme helps to further break down food waste during the grinding process.
Not only are the enzymes environmentally friendly, but they also continue to work after the food waste is eliminated down the drain into the septic system itself. The enzyme injection not only helps maintain your garbage disposal's effectiveness, but it cuts down and outright eliminates disgusting odors that can also build up in your drain over time[i].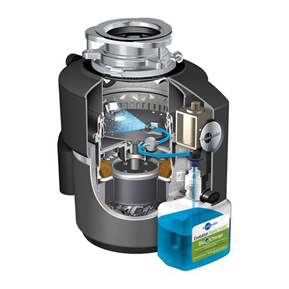 Out of the many other Garbage Disposals brands to choose from, the InSinkErator's Evolution Septic Assist is rated the most environmentally friendly[i].
The InSinkErator brand of garbage disposals are also engineered and manufactured in America! There is not a better garbage disposal brand on the market, InSinkErator is the brand recommended and guaranteed by the expert plumbing technicians at Andy's Pipe Dream.
Kansas City Metro
19959 W. 162nd Street.
Olathe, KS 66062
Phone: 913-210-5818
E-mail: dispatch@andyspipedream.com
Hours of Operation
Monday – Friday: 8 am – 6 pm
Saturday: Closed (Emergency Service Available)
Sunday: Closed (Emergency Service Available)
Emergency Service Available 24 Hours a Day / 7 Days a Week