Wax Seal Replacement on Toilets
What is a toilet wax seal? It is a sticky ring of wax that directly joins the bottom of the toilet with the drain pipe. The wax seal is essential to a toilet's ability to function, it also ensures proper sanitation. When the toilet is seated correctly onto the flange (the pipe fitting that mounts the toilet to the floor) and the wax seal is installed properly, a waterproof barrier is created between your toilet's contents and the bathroom floor.
Would your toilet's wax ring receive a "seal of approval"?
That's a good question, like any other essential working part on a toilet, the wax ring can break down over time. Deterioration of the seal can cause leaks and potential damage to flooring and drywall if ignored. Replacing a wax seal is a straightforward process. However, if you aren't comfortable pulling your toilet to inspect/replace your wax seal you can have the master plumbers at Andy's Pipe Dream come out to take care of it for you!
Common Signs That a Toilet Has a Problem with its Wax Seal?
Generally, a wax seal is designed to last a long time. They can sometimes last up to thirty years! However, there are always exceptions. Typically, when a toilet has issues with its wax seal, it is most often a result of an improper installation of the toilet or an uneven surface. If the floor surface under the toilet is not level or proper care is not taken to precisely install a toilet, the outcome can be damage to the wax ring resulting in cosmetic or even structural damage over time.
It is also not always immediately obvious when there is a problem with your toilet's wax seal. Symptoms of wax seal issues can look different from bathroom to bathroom. Below is a list of the more common signs that signify that you may have a problem with your toilet's wax seal: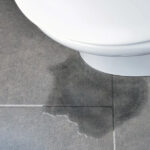 Water Leak at the Base of the Toilet: The most common sign that your toilet might have a problem with its wax seal is water leaking from around the bottom of your toilet. Usually, the leaking starts just after the toilet is installed, but it can happen many months or years after installation as well.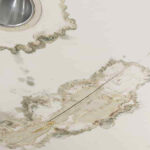 Water Leaking from the Ceiling: Toilets installed on a 2nd floor or higher may damage cause problems below. Water flows along the path of least resistance, so gravity will always pull a leak downward. Sometimes the first indicator there is a problem with a toilet's wax seal on an upper floor, is a leak that is coming through a ceiling or side wall.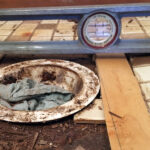 Wobbly Toilet: If you sit on the toilet and it shifts back and forth with your added weight, then most likely the toilet is not sitting level or is not correctly secured to the flange. Constant movement will cause the wax seal to break down. If the wobbly toilet is due to an uneven surface you will need to make the subfloor level before replacing the wax seal, otherwise you will continue to battle a wobbly toilet, wax seal replacement and leaks over and over.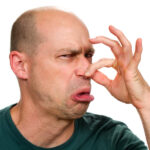 Bad Odor: The wax seal is not only a barrier to prevent water from escaping from the plumbing of your toilet, it also stops odors from rising up and out of the sewer drain. If your bathroom smells bad (when not in use) it could mean that there is a break in your wax seal.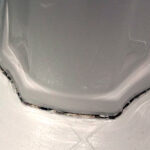 Mold: Another sign that your wax seal has developed a slow leak is if your bathroom or adjoining ceiling or walls develop mold. If this is the case, you should address the issue immediately. Continued exposure to mold can lead to health problems.
Our Master Plumbers Quickly Diagnose Problems with Wax Seals
Do not trust your plumbing repairs and installations to anyone but Kansas City's BEST! 
Andy's Pipe Dream's team of Master Plumbers have been serving customers in the Kansas City area since 2003. We have the knowledge and experience to promptly diagnose and repair all plumbing issues, including problems with your toilet's wax seal. It is our mission to help our clients avoid unnecessary frustrations and expenses by resolving their plumbing issues the right way, the first time!
We pride ourselves on delivering excellent customer service (check out our reviews) and are here to help day or night with our 24/7/365 emergency service.
New Customer Discount – $75 OFF New Toilet Install
As a local, family-owned Kansas City business, Andy's Pipe Dream Plumbing understands good service and good value. Toilet repairs often fall low on the list of priorities until they turn into costly problems.
This is why we are offering NEW customers $75 OFF new toilet installations (limit one per new customer, can't be combined with other offers).
If your toilet is over 15 years old, think about replacing it vs. making repairs. You will save money in the long run by taking advantage of new water saving features on the latest models of toilets.
Kansas City Metro
19959 W. 162nd Street.
Olathe, KS 66062
Phone: 913-210-5818
E-mail: dispatch@andyspipedream.com
Hours of Operation
Monday – Friday: 8 am – 6 pm
Saturday: Closed (Emergency Service Available)
Sunday: Closed (Emergency Service Available)
Emergency Service Available 24 Hours a Day / 7 Days a Week