Kitchen Sink Garbage Disposals Installed by Expert Plumbers
Kitchen Cleanup is a breeze with a state-of-the-art- garbage disposal installed by the expert technicians at Andy's Pipe Dream. Chances are you take your garbage disposal for granted and don't appreciate how much you use it until the one you have no longer operates properly and needs to be replaced. If that's the case, you are in luck as the Garbage Disposals of today are stronger and do the job of quickly and efficiently eliminating leftover food such as mac and cheese, broccoli, and pizza by grinding it into finely chopped particles and then flushing it into the septic system.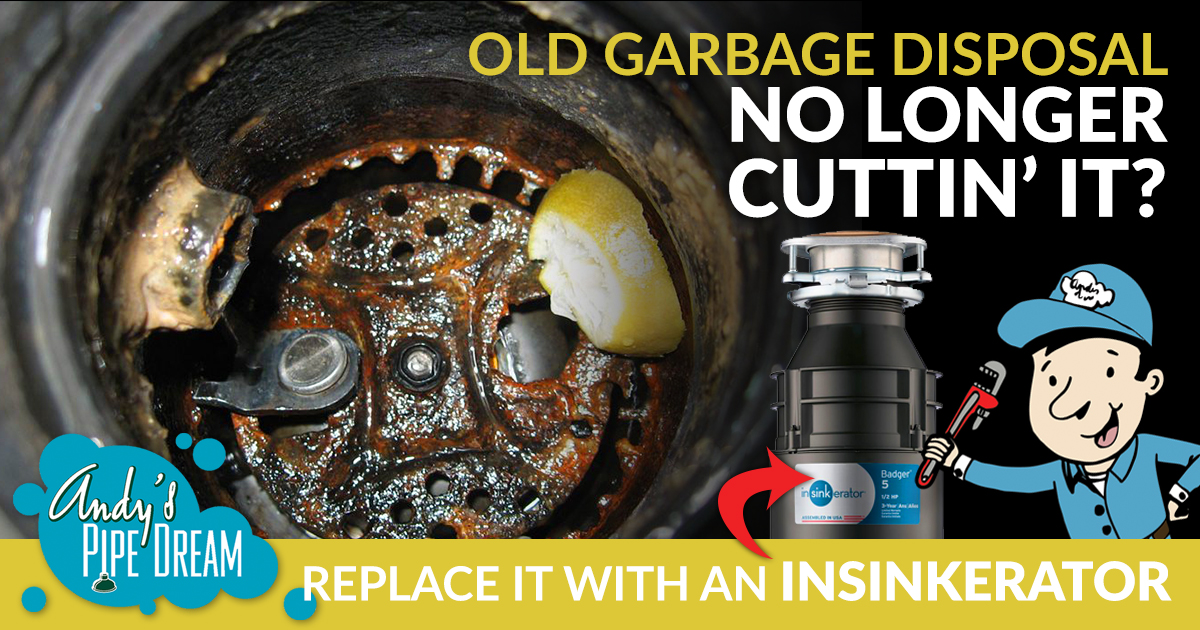 If you do not have an installed garbage disposal, chances are you have an older home or a home that runs solely on a septic system. The rule of thumb with homes utilizing an on property Septic system used to be that a homeowner did not have a disposal installed as this would add to the chances of your septic system being compromised and all food waste was thrown in the trash. With the state of the art Garbage Disposal Systems available today and models especially designed for use with a Septic System, this is not the case any longer. These septic friendly units have cartridges that inject microorganisms that break-down food every time the disposal is activated. These cartridges can last 3-6 months depending on volume of use. If you have an older homes were that was built without a garbage disposal, installing the modern convenience of a garbage disposal makes kitchen clean up much easier today.
Garbage Disposal Unit Types 
Garbage disposal units are offered in either batch (which operate only when the disposal is engaged) or continuous feed (operated by an on/off switch). A ¾ horse-powered unit is a likely choice unless your kitchen is equipped with a stainless steel sink. The inexpensive stainless steel sinks are typically not solid enough to support this stronger and heavier garbage disposal of today. If your kitchen is equipped with a stainless steel sink, this is not a problem. The experts plumbers at Andy's can also install a new sink that will work with these stronger models and not compromise the workability of your new garbage disposal equipment. Garbage Disposals today offer many features including anti-jamming, quiet motor operation and connections to your dishwasher.
Garbage Disposal Recommendations
Andy's Pipe Dream offers and recommends 3 different types of InSinkErator brand garbage disposals: The Badger 5, Pro 750 and Pro 880LT.
To learn more about each model and to compare features, click here.
Tips for using your garbage disposal properly
Run the disposal each time you add food to the sink. Don't wait till water backs up with water to turn your garbage disposal on
Use orange peels in your disposal to keep it fresh
Run the disposal with cold water during use
Do not reach your hand into the disposal
Do not put grease into your garbage disposal
If the garbage disposal unit you have is noisy, has stopped working or if your kitchen does not have a garbage disposal, call Andy's Pipe Dream today. We can install a new sink, if needed, as well as a state-of-the-art garbage disposal today!
Kansas City Metro
19959 W. 162nd Street.
Olathe, KS 66062
Phone: 913-210-5818
E-mail: dispatch@andyspipedream.com
Hours of Operation
Monday – Friday: 8 am – 6 pm
Saturday: Closed (Emergency Service Available)
Sunday: Closed (Emergency Service Available)
Emergency Service Available 24 Hours a Day / 7 Days a Week